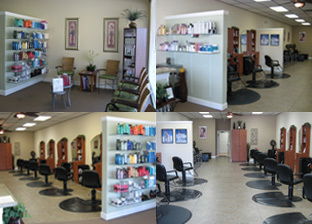 Serenity proudly opened its doors in September of 2004. Through great customer service, competitive pricing and our commitment to the community we are able to serve customers from the Geist Area and all over the north east side of Indianapolis. Our intimate salon atmosphere and attentive staff combine to create a comfortable setting for our clients.

Kate W.
"I looked all over Indy for a good hair dresser and I'm so happy I finally found this place! The women here are amazing and Christy Rabbitt is phenomenal. I go to school at IU and will drive up from Bloomington any time I need my hair cut. I highly recommend coming here!"

Susan S.
"Serenity Salon is my favorite salon in Indy, on many levels! And, I've been to many, over the last 40 years. Our Family loves to get our hair cut at Serenity Salon..."

Amelia A.
"Love this salon, I've been seeing Jennifer for my hair since I was probably 10 and she is amazing. She has taken my very long hair from black to blonde and kept it healthy the whole time. The salon is clean and the staff is always friendly!"